Grand Teton National Park
Great Western Expeditions
Great Western Expeditions
Wildlife Tours & Safari-Style Meals
Grand Teton National Park
GREAT WESTERN EXPEDITIONS.
NOT YOUR ORDINARY TOUR COMPANY.
Yellowstone National Park
Great Western Expeditions
AN UNMATCHED TOUR EXPERIENCE.

Wyoming ~ Beyond
Great Western Expeditions
Enjoy the parks with a private group experience like no other.
The free spirit of Wyoming
now extends to your vacation.
If it's your first time in the valley, you're going to want to visit our national parks. They are a must-see and deserve as much time as you have. That's why we offer several breakfast and dinner trips – so you can relax and enjoy while we take care of the details. Frequent visitor? Let's explore further. Great Western Expeditions will help you design and create new experiences taking you to, well, Wyoming and Beyond.
Discover newborn baby elk, bison and bear in Grand Teton and Yellowstone national parks. All trips include specially prepared meals including craft beer & wine on our dinner tours.
Leave the planning to us. We'll craft the perfect outing for your special event or group, catering a delicious meal served in the field with our inspiring mountain backdrops. Bring your binoculars!
Our popular sunset dinner experiences are a must-do if you're visiting the valley. Relax and enjoy the wildlife and landscape topped off with a specially prepared safari-style meal or elevated picnic served in the field with craft beer and cocktails.
Experience the world's first national park with our classic or signature Yellowstone National Park experiences. We'll take you to all of the top destinations along with a picnic lunch and safari style dinner served in the field.
Planning a family reunion or special event? Let us be the guide while you relax in comfortable transportation while we share the flora and fauna and seek out wildlife. Our experiences include a variety of specially prepared meals or elevated picnics that will make your family occasion memorable for everyone.
Winter in Wyoming can be a magical place. From sleigh rides surrounded by snow-capped peaks and wildlife to snowshoeing on a quiet ranch where warm cocoa and delicious snacks await at our magical igloo. 
Find one of the best dinosaur museums in Thermopolis, Wyoming. You'll be invited to have a hands-on experience digging for dinosaur bones. A truly enjoyable experience for all ages.
Wyoming's Native American culture is woven throughout the state including Devil's Tower and Crowheart Butte. These holy places and the stories that accompany them are an integral part of our landscapes.
Choose from one of our new snowshoe trips combining a narrated wildlife tour with a private ranch lunch, a remote bubble igloo serving hot drinks and snacks, or both. A must-do for our winter visitors who really want something extraordinary.
Welcome to
Great Western Expeditions
Sharing the beauty of our state is what inspires us most. Let it inspire you.
You will love Wyoming. You'll love it more with our expert guidance. From spectacular Grand Teton and Yellowstone guided tours not far from our Jackson Hole home, to the trout-filled rivers, mountains, canyons, deserts, grasslands, and wildlife that roam free throughout this magnificent state. Our love for Wyoming is the reason we created Great Western Expeditions. After spending our lives exploring all of its treasures, we chose to follow our passion and now share these amazing landscapes with visitors from around the world.  
~ Rob & Stacey Caesar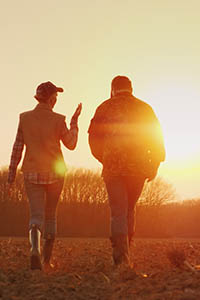 We Love What We Do. And It Shows.
"The highlight of our group's visit to Jackson Hole was the thorough planning and local insight and charm that Great Western Expeditions provided for us."
Robert
"Thorough planning & unique ideas."
"Our group visits Jackson Hole every year. It is an extremely important program for us. Great Western Expeditions is always completely on top of our needs with thorough planning and unique ideas."
Elaine
"Our extended family gathering of 20 people of all ages to Jackson Hole and Yellowstone was perfectly orchestrated and planned by Great Western Expeditions. Their travel design service is invaluable!"
Mike
"Can't stop talking about all the great things we did!"
"We toured with Great Western Expeditions and my family can't stop talking about our guide and all the great things we saw and did!"
Angela
Amazing service, knowledgeable and friendly guides, and utmost comfort. Great Western Expeditions should be your first call to see Jackson Hole.

Peter Long


May 24, 2023

This tour was fabulous and our tour guide, Ana, was amazing! She was so informative and really made the day special. I can't recommend this company enough!

Rachel Zabkowicz


August 24, 2021

Our tour guide was very informative and super friendly. She made extra stops for us to capture the beauty of the tetons and wildlife. Highly recommend!

Joshua Alderks


September 16, 2023

We had such a great experience! Planned a surprise proposal with a nature tour and dinner in Grand Teton National Park. Our tour guide Laurie was amazing and Rob... read more and Stacey did a phenomenal job with the dinner and staging. Everyone played along to keep the surprises coming throughout the evening until I popped the question!

Adrien Salomon


September 4, 2023
Verified
Classic Yellowstone - Lower loop private trip We did this full day excursion with Vinnie. Vinnie was fantastic and extremely knowledgeable. The tour started at 6:30AM and Vinnie had lots of delicious pastries and made a coffee stop for us. He had snacks for the kids to munch on throughout the day. We had several traffic issues bc of construction but he navigated through them to make sure we were not sitting to long with nothing to see. It started to rain and he would run to get everyone an umbrella. He found a cute picnic spot and brought out a lovely lunch and homemade dessert. Lots of drinks for the kids and beers for the adults. From start to finish he was a pleasure. The trip is expensive but I feel like it was worth it bc we would never have been able to navigate and see what we saw just trying to navigate a map. This group offers lots of excursions and are all extremely responsive and helpful when booking. If you have one day to tackle Yellowstone you should use them! They dont disappoint!
Verified
Best way to see Grand Teton! We booked a private wildlife tour with Great Western Expeditions and it was fantastic! Our guide, Ana, was so friendly and knowledgeable. She gave us lots of context and backstory to things we saw that gave us a much deeper understanding and better overall picture of the park. She also knew all the best spots to see wildlife. We saw moose, bison, and other animals and Ana had binoculars and a scope to help us see the animals. The tour was so easy and convenient. She picked us up at our hotel and had snacks in the car for the kids as well as games and puzzles. I'm so happy we booked this tour!
Verified
Sundowner Dinner Experience Laurie was so knowledgeable of the area and accommodating on our sundowner dinner experience! She picked us up at our condo on time and was really helpful in planning our experience. It was my husbands 40th birthday and she got him a birthday cake and candles to help us celebrate during our tour. Unfortunately the weather didn't cooperate for us to have our dinner outside, but Laurie made sure we still had a nice meal and took us to eat dinner at the Signal Mountain Lodge. We were still able to see wildlife on our tour even with the rain we made the most of it. We even got to see bear 399 and her cub. I would definitely recommend this company if you are looking for a tailored tour to fit your needs!
Verified
Everything Yellowstone is known for! A trip to remember! We saw amazing wildlife and views. Our guide Dave was great. He was very knowledgeable and helpful throughout the trip. We had a wonderful time exploring Yellowstone and the Tetons.
Verified
Trip of a lifetime! This was an amazing trip and really exceeded all of my expectations. Laurie did a great job planning our trip and accommodations. She communicated with us regularly and ensured we were always up-to-date and happy. The hotels included in the trip were nice, and the vehicle we used for the trip was roomy and comfortable. Our guide David was with us every step of the way, and helped narrate the local history and answer all our many questions about the area and wildlife. This man has to be the most relaxed and friendly person I have ever met, and his amazing detailed knowledge of the area and wildlife is what really brought this trip to life. He clearly has a passion for nature and Yellowstone National Park, and it really shows. David ensured we didn't miss any major sights in Yellowstone, and also took us to some other areas off the beaten path. We definitely saw more wildlife than we would have on our own due to his fantastic ability to spot wildlife and direct our observation. This entire trip was well organized and we never felt like we missed anything or were rushed. I couldn't recommend this more to anyone wanting to experience Yellowstone and learn about the area and wildlife. We would definitely travel with Great Western Expeditions again!
Verified
Exceeded expectations isn't a strong enough compliment! The 3 day 2 night trip exceeded my expectations in every way possible. The itinerary left enough time to wildlife watch and stop at visitor and info centers. Our group never felt rushed to move on to the next location. The accommodations were great, especially at Chico Hot Springs. Our guide, David, and the owner, Laurie, met with us the day before our trip to introduce themselves and explain the trip and what we could expect. David was(is) outstanding. His extensive knowledge of the area, Yellowstone and wildlife from ground squirrels, waterfowl, bears, wolves, flora and fauna inspired many questions from our group and he was able to answer all of our MANY questions, and then some. David is not only a guide but is foremost a passionate educator. He leaves guests with a better understanding of the environment and how geology, ecology and biology work together. Our time in Yellowstone was beautiful but, made more complete with David as the guide.
Verified
Amazing Tour with Great Western Expeditions Our tour guide Laurie was amazing. She was very knowledgeable, friendly and passionate about GTNP. The sunrise tour with breakfast was an unforgettable experience. I give this tour a 10/10.
Verified
15/10!! 15/10!!! Our guide, David, may just be the smartest person I've ever met. Not only did he know the answers to nearly all of the many, MANY questions our group had, he is a great conversationalist. We did a 3-day trip, and from the first hour or so in the car he was like a friend. He knows the area intimately, having hiked and skied most of it, and of course having studied it all for his masters and PhD program (this guy isn't just a nature enthusiast, he's a real pro). He knew ALL the best places to see wildlife, and boy did we get some great shows!!! He was soooo accommodating, friendly and patient- always offering his own equipment for US to get the best views and photos. The itinerary let us see everything we could have hoped for, and David was always happy to flex when we wanted to spend more or less time in any spot, or veer off the schedule and take a small hike. The hotels were great- especially the hot springs! Loved, loved, LOVED!!!!!!
Verified
Starting our very own "Bear Jam!" My husband and I traveled to Jackson, WY for the first time the end of May, 2022. What an experience! Our children booked us a sunset tour with dinner with Great Western Expeditions. Larry (who was awesome!) picked us up at the hotel and carried us through several off roads that my husband and I had not traveled. We actually saw a mama grizzly with two cubs but our favorite part was starting our very own "bear jam" with a beautiful grizzly at Moose Junction! We ended the tour eating at a local restaurant instead of a sunset dinner because it was so cold and our picnic area was covered in snow! Thank you, Larry and Great Western Expeditions, for a great experience!
Let's Plan Your Adventure.
Great Western Expeditions is no regular tour company. We specialize in crafting innovative tours and custom vacations for those looking for a truly unique experience. Relax and enjoy the scenery and wildlife while we tour in one of our comfortable vans, enjoy a specially prepared meal served in the field, and learn about the flora and fauna from our knowledgeable guides. Give us a call or click on the CUSTOM EXPEDITIONS link below to get started!
Custom Expeditions
What would you like to see? What would you like to learn about?
Complete this short survey and start the conversation!
Ready To Go?
See a trip you like?
Check availability.