Great Western Expeditions
Wildlife Tours & Safari-Style Meals
Grand Teton National Park
Great Western Expeditions
Yellowstone National Park
Great Western Expeditions
Wyoming ~ Beyond
Great Western Expeditions
Full & Half Day Safari Meal Tours
Group Events & Activities
Enjoy the parks and practice social distancing with a private group tour.
The free spirit of Wyoming
now extends to your vacation.
If it's your first time in the valley, you're going to want to visit our national parks. They are a must-see and deserve as much time as you have. That's why we offer several breakfast and dinner trips – so you can relax and enjoy while we take care of the details. Frequent visitor? Let's explore further. Great Western Expeditions will help you design and create new experiences taking you to, well, Wyoming and Beyond.
Discover newborn baby elk, bison and bear in Grand Teton and Yellowstone national parks. All trips include specially prepared meals including craft beer & wine on our dinner tours.
Leave the planning to us. We'll craft the perfect outing for your special event or group, catering a delicious meal served in the field with our inspiring mountain backdrops. Bring your binoculars!
Our sunset dinner tours are our most popular tours. Relax and enjoy the wildlife and landscape along with a specially prepared meal served in the field. Perfect for those not wanting to rush back to town for a reservation.
Experience the world's first national park with our classic or signature Yellowstone tours. You'll see all of the park's key highlights along with a picnic lunch and delicious dinner served safari style.
Whether it's a large family reunion or a relaxing family outing, we'll take you to all the hot spots, serve up specially prepared meals, and share the flora and fauna of this beautiful area – and beyond.
Winter in Wyoming can be a magical place. From sleigh rides to snowcoaches surrounded by snow-capped peaks and wildlife.
Find one of the best dinosaur museums in Thermopolis, Wyoming. You'll be invited to have a hands-on experience digging for dinosaur bones. A truly enjoyable experience for all ages.
Wyoming's Native American culture is woven throughout the state including Devil's Tower and Crowheart Butte. These holy places and the stories that accompany them are an integral part of our landscapes.
Welcome to
Great Western Expeditions
Sharing the beauty of our state is what inspires us most. Let it inspire you.
You will love Wyoming. You'll love it more with our expert guidance. From spectacular Grand Teton and Yellowstone guided tours not far from our Jackson Hole home, to the trout-filled rivers, mountains, canyons, deserts, grasslands, and wildlife that roam free throughout this magnificent state. Our love for Wyoming is the reason we created Great Western Expeditions. After spending our lives exploring all of its treasures, we chose to follow our passion and now share these amazing landscapes with visitors from around the world.  
~ Rob & Stacey Caesar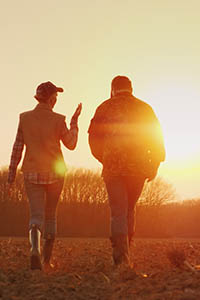 We Love What We Do. And It Shows.
"The highlight of our group's visit to Jackson Hole was the thorough planning and local insight and charm that Great Western Expeditions provided for us."
Robert
"Thorough planning & unique ideas."
"Our group visits Jackson Hole every year. It is an extremely important program for us. Great Western Expeditions is always completely on top of our needs with thorough planning and unique ideas."
Elaine
"Our extended family gathering of 20 people of all ages to Jackson Hole and Yellowstone was perfectly orchestrated and planned by Great Western Expeditions. Their travel design service is invaluable!"
Mike
"Can't stop talking about all the great things we did!"
"We toured with Great Western Expeditions and my family can't stop talking about our guide and all the great things we saw and did!"
Angela

First time to Yellowstone Trip was exceptional. Great Western folks know what they are doing. They listened well in designing our trip to see what were our interests, and they made nice adds to make sure we got the full flavor of the entire park. They made our 5 day/4night adventure fun and easy. Laurie was tops.

Yellowstone/ Grand Teton multi day tour Great Western Expeditions-Jackson provided an outstanding Yellowstone/Grand Teton adventure that fulfilled lifelong dreams! This tour agency listened to our specific requests and crafted a unique multi day park experience in a comfortable touring coach. Breathtaking views of bears, bison, moose, elk, and more, thanks to our experienced and knowledgeable guide, Laurie. She safely & expertly ushered us beside beautiful mountain lakes and active geyser fields- yes, we beheld the magnificent Steamboat! Did I mention Laurie knows the quintessential tranquil picnic locations & can grill the perfect steak? Best Guide Ever!

Wonderful Yellowstone Experience Our group off four people spent 5 wonderful days and nights in the Tetons and Yellowstone Parks with Laurie and cannot say enough good about our experience. She is an expert guide with a great personality who went the extra mile to see that we experienced as much as possible on our trip. She listened to what we wanted to see and adapted our tour to meet our needs. 5 stars all the way!

Tour of Grand Tetons and Yellowstone Our group of four just completed a five day, four night tour of Yellowstone and the Grand Tetons with Laurie. She was incredible, spending extra hours making sure we saw everything in Yellowstone that would amaze us. From pulling up and parking the van quickly so we could get a close up of a bear or bison, fixing an incredible dinner in a picnic area, explaining the eco-system of Yellowstone, and having everything we needed in the van from snacks to binoculars! This is the best way to see Yellowstone up close and not have to drive yourself! I still cannot believe she had us visit the Steamboat geyser that went off while we were there! She says it was a surprise to her but I am still wondering!

Very good Our experience was very good. Laurie was nice, knowledgable, accommodating and helpful guide. The car was clean, confortable and spacious. During the 4 hrs tour we encounter elks, moose, dears, and impressive views of the Tetons mountains.

Half day adventure tour Lori was a tremendous guide. Half-day trip around Teton Park and Elk Preserve. Beautiful car ride around the park and Lake Jackson. Lori made sure we saw elk, bison and even a coyote. Fun engaging informative never boring.

Incredible day Wildlife on the tour was amazing. We saw elk, moose, big horn sheep, bald eagles and a coyote. In addition we did the Elk refuge sleigh ride and finished it up with fun dinner at Dornan's for great food and views of the sun setting behind the Grand Tetons. Larry was our guide he was an incredible source of knowledge that made for an outstanding day!
Let's Plan Your Adventure.
Great Western Expeditions is no regular tour company. We specialize in crafting innovative tours and custom vacations for those looking for a truly unique experience. Relax and enjoy the scenery and wildlife while we tour in one of our comfortable vans, enjoy a specially prepared meal served in the field, and learn about the flora and fauna from our knowledgeable guides. Give us a call or click on the CUSTOM EXPEDITIONS link below to get started!
Custom Expeditions
What would you like to see? What would you like to learn about?
Complete this short survey and start the conversation!
Ready To Go?
See a trip you like?
Check availability.